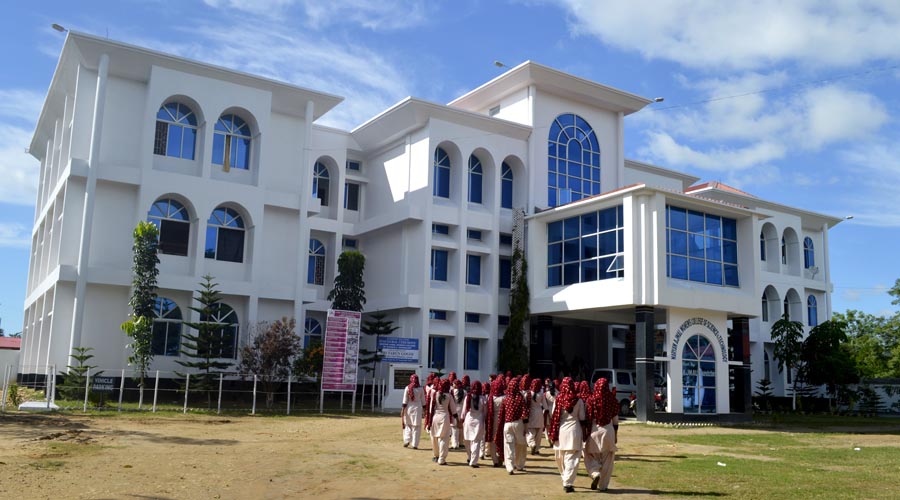 About Ajmal Group of Colleges
The literacy rate and level of educational attainment of people are two key indicators of a countrys development. Literacy and level of education influence a persons daily life and help her/him perform a range of activities, which are not possible without the ability to read, write and communicate in the social sphere. Opportunities to get enrolled in a school or college can come to children only when it is available within a reasonable distance. Infrastructural bottlenecks and poor transport and communication, especially in rural areas including the Char and border areas, often make access to school difficult for children. Further, recurring floods, continuous erosion and difficult terrain in the hills also create barriers to access to school. Besides, a host of other factors such as poverty, frequent conflicts and violence, discrimination of diverse sorts, etc., also come in childrens way of accessing schools. AJMAL FOUNDATION has attributed utmost importance on expansion of modern education by establishing various educational institutions and launching multiple educational schemes & projects. Keeping in view the scarcity of quality educational institutions, AJMAL FOUNDATION has established 24 institutions, including B. Ed. College, Degree Colleges and Junior Colleges in different rural and underprivileged areas of Assam to cater to the needs of budding talents deprived from modern facilities. The various colleges which come under AJMAL GROUP OF INSTITUTIONS are as follows:

Haji Ajmal Ali Junior College, Nilbagan (HS Arts)
Haji Ajmal Ali Memorial Junior College, Kapashbari (HS Arts)
Ajmal College of Arts, Choudhury Bazar (HS Arts)
Ajmal College of Arts, Dagaon (HS Arts)
Ajmal College of Arts, Gauripur (HS Arts)
Maryam Ajmal Senior Secondary School, Gauripur (HS Arts)
Ajmal College of Arts, Hashrawbari (HS Arts)
Ajmal College of Arts & Science, Hatsingimari (HS Arts & Science)
Ajmal College (Jr.), Jungle Block (HS Arts)
Ajmal College of Arts & Science, Chenga (HS Arts & Science)
Haji Ajmal Ali College, Nilbagan (BA)
Moulana Bhasani College , Fakirkanj, Dhubri (BA)
Ajmal College, Lakhimpur (HS Arts)
Ajmal College, Lakhipur (HS Arts)
Ajmal Adarsha Jatiya Vidyalaya Haldiati (Tapatjuri)
Ajmal Model Public School, Bhelowguri
Studv Centre KKHSOU, NIOS & Other Educational Projects & Schemes.
Wishing you a rewarding experience in Ajmal Group of Institutions